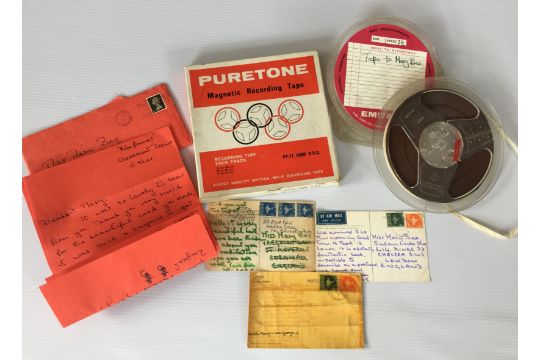 We have no knowledge of what
this is
, but Omega Auctions says it's an unreleased George Harrison song, "Song to Miss Mary Bee" from 1968 from around the time of "Wonderwall". The estimated value is
10,000 GBP - 20,000 GBP.
Here's the description:
GEORGE HARRISON UNRELEASED RECORDING - of a track entitled "Song to Miss Mary Bee" along with a reel 2 reel recording of his "Wonderwall" album, postcards sent by George and his wife Patti Boyd to the vendor and a 6 page letter from Patti to the vendor. This incredible recording was made especially for the vendor whose name is "Mary Bee" back in early 1968 and was sent to her by George and Patti along with postcards and other recordings during 1967 & 1968. The song was recorded on an Emidisc Reel 2 Reel tape in 1968 at "Kinfauns" and is very much in the Indian style of the music that he was heavily influenced by and producing around the time of his first studio album "Wonderwall". In addition to the "Song for Mary Bee" which is approximately 2 minutes long there are other recordings of tracks that George would have been working on with The Beatles at the time. The case of this tape has writing on which reads "Tape to Mary Bee". The "Wonderwall" tape again has writing on the box which reads "Music from the film Wonderwall for Mary Bee". The 6 page letter is a great read and has numerous references to the tapes. Patti talks about George working on the "Wonderwall" soundtrack and at one stage says she can't send a tape of the music but then corrects herself (after speaking to George) to say that "George will tape his music". She also says that George has "just come into the kitchen singing Mary Bee, Mary Bee about to make a lovely cup of tea". There are 3 postcards from Patti & George included in the lot which are all addressed to Mary Bee and have been sent from India. The postcards mention where George & Patti have visited, how they are having their first yoga lesson and that she has been thinking of Mary when meditating. On one George has written "Hello Mary - love George". One of the postcards also starts by asking "Did you get the tapes?". Includes a letter of provenance from the vendor along with her transcribed lyrics for the song.